Investing in RURAL SOLAR
Finance photovoltaic kits to give rural populations access to energy and receive royalties every quarter.
Every time we reach € 3,600, we fund a new batch of 10 solar kits.
40 kits funded, the next 10 in progress!
POSITIVE SAVINGS FOR ECOLOGICAL AND SOCIAL TRANSITION
In West Africa, the electrification rate is less than 40%, a phenomenon due to the absence, or even the impossibility, of connecting rural areas to the electricity grid. This fuel poverty creates structural problems in daily comfort, education, health, safety, and income generation opportunities at the local level. Make a concrete contribution to making African rural areas areas ofopportunity for all and to laying the foundations for the energy transition there, by investing in a solar kit that will be installed in rural Senegal.
You invest from 10 € in a new solar kit. We buy this material as soon as the necessary amount is met.
The kit is entrusted to our partnerJokosun, who uses it with its customers and avoids the use of a polluting generator, expensive and dangerous for health.
You receive royalties on this operation every quarter for 3 years with a forecast annual yield of 3.6% gross.
RETURN ON INVESTMENT
0
% du chiffre d'affaires de
0
Kit Solaire
pendant 1 years (estimated percentage)
I.e. in total
0
€
(gross) according to to the project owner's forecast:
Targeted return on investment:
x

...
your initial investment in 1 years (i.e. +
...

%
)
Risk of losing the entire investment. Maximum return on investment: x1,03.
* Tax: Flat tax of 30% on the profit if you declare your income in France. Otherwise, your local tax law applies.
Le pourcentage peut varier selon le coût d'achat final de l'actif mais le rendement visé reste le même.
Presentation
SOLUTION
Autonomous solar kits for opportunities in rural West Africa
Problem : in West Africa, more than 60% of citizens do not have reliable access to electricity. In rural areas, the electrification rate sometimes does not exceed 5%. This energy poverty negatively impacts daily comfort, education, health, safety, and the local possibility of income generation. The lack of access to reliable and sustainable energy is thus at the root of the rural exodus in West Africa.
Solution : the photovoltaic kits offered by Jokosun each include: 1 photovoltaic panel, 1 long-lasting battery, 5 ultra-bright LED lamps, 2 USB outputs with adapters for charging phones, smartphones, tablets, 1 24-inch LED television.
They are adapted to the specificities of African rural areas: the equipment meets European standards and is accompanied by full energy services (on-site installation, user training, life-long maintenance).
These kits are marketed on a rental-purchase model spreading out the payment to make them accessible and provide new opportunities to isolated rural populations:
replacement of fuel oil use

in generators and kerosene lamps
thanks to the stopping of fuel oil combustion
better access to education and information

financial data
An investment over 3 years
The Jokosun company is deploying its energy solutions in the Senegalese countryside by offering its solar kits for hire-purchase.
Common Goods, a subsidiary of WE DO GOOD dedicated to asset management for Positive Savings, will be able to acquire 10 kits if € 3,600 are collected. This need could be reduced if a co-buyer intervenes at the same time or if the production cost drops.
The estimated annual income from a solar kit is € 201.11 excluding tax, or € 2,011.10 for 10 kits. The kits are offered on a rental basis over a period of 3 years, at the end of which Jokosun may transfer the kit to the household to which it rents it, if the amount of the rents has made it possible to cover the investment and the related costs. .
For 3 years, 40% of this income will be donated to Common Goods, which will return 94.3% to investors every quarter via the platform, for a forecast return estimated at around 3% per year.
partner company
The Jokosun company is triggering reliable and sustainable access to energy in rural West African areas not connected to the electricity grid. It is active in Senegal, with a desire to extend to other countries in French-speaking West Africa.
Its vision is to contribute to the growth of an autonomous Africa, to give everyone the same opportunities to succeed, and to immediately lay the groundwork for an energy and ecological transition.
Created in 2017 by Raymond Sarr, Franco-Senegalese engineer, it was joined in 2018 by Simon Pujau, a graduate of Sciences Po Toulouse and Toulouse Business School.
Jokosun is based in Toulouse and Dakar, it is labeled Green Greentech by the French Ministry of the Environment, and is a laureate of the Réseau Entreprendre Occitanie-Garonne.
frequently asked questions.
COMMON GOODS, a subsidiary of WE DO GOOD, purchases the equipment and makes it available to the partner who operates it. This company aims to pool durable goods to accelerate the ecological transition.
---
Will I be able to benefit from the funded material?
Yes, by renting it if this equipment is available for rent. Otherwise, you will still benefit from the income it generates!
---
Yes, the operating partner may not be able to hire it sufficiently. The equipment could possibly be resold to reimburse you but it is possible that you lose all or part of your investment. Moderate your risk by diversifying your investments.
---
What happens if the hardware is damaged?
The material is systematically insured. In the event of breakage, the compensation received is used either to replace the equipment to continue operation, or to reimburse you.
---
What happens to equipment at the end of its life?
Our goal is for the material to serve as long as possible and to be recycled as much as possible when this is no longer possible.
discover the other themes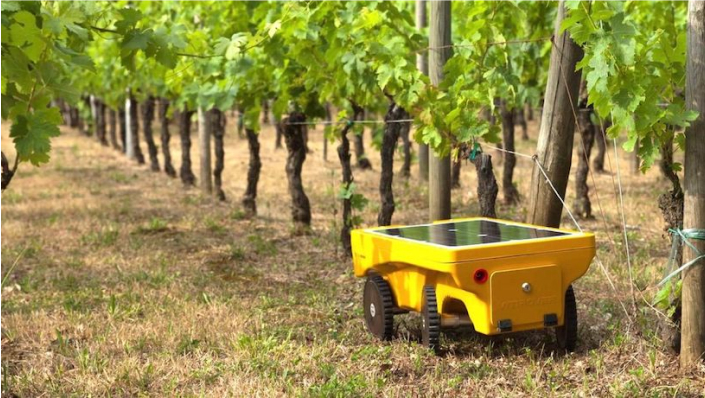 Zero pesticide