Invest in zero pesticides

Fund solar robot mowers to replace glyphosate and receive royalties quarterly.
Every time we reach € 5,000, we fund a new solar robot, ie 1.5 ha without glyphosate.
9 robots funded, the10th in progress!
POSITIVE SAVINGS FOR ECOLOGICAL AND SOCIAL TRANSITION
France is one of the countries that consumes the most herbicides, products that are harmful to the environment and to human health. Make a concrete contribution to the development of alternative solutions by investing in an autonomous robotmower, which will be put into operation on the tracks or in a vineyard.
You invest from € 10 (or 30 m²) in a new solar robot mower. We buy this material as soon as the necessary amount is met.
The robot is entrusted to our partner Vitirover ,who operates it at its customers' premises and avoids the use of glyphosate on 1.5 hectares.
You receive royalties on this operation every quarter for 3 years with a forecast annual yield of 3.6% gross.
RETURN ON INVESTMENT
0
% du chiffre d'affaires de
0
Robot tondeur solaire
pendant 3 years (estimated percentage)
I.e. in total
0
€
(gross) according to to the project owner's forecast:
Year
1

35.33

2

35.33

3

35.33
Targeted return on investment:
+
...

%
of your investment in 3 years
(i.e.
x

...
your initial investment in 3 years)
Risk of losing the entire investment. Maximum return on investment: x1,15.
* Tax: Flat tax of 30% on the profit if you declare your income in France. Otherwise, your local tax law applies.
Le pourcentage peut varier selon le coût d'achat final de l'actif mais le rendement visé reste le même.
Presentation
SOLUTION
The solar robot mower: the most mature alternative to Glyphosate
Problem : the use of chemical herbicides, in particular Glyphosate, destroys the plant cover. A bare soil is then obtained, and this control solution is inexpensive. However, herbicide residues are disseminated in agricultural and industrial soils which migrate into waterways and groundwater, contaminating flora and fauna and often carcinogenic to humans.

Solution : Vitirover robots maintain vegetation at the desired level where other alternatives to Glyphosate are too expensive or unsuitable (biocontrol products, geotextile, eco-grazing, etc.). Vitirover robots are particularly useful for the maintenance of vineyards or strips of proximity to railway tracks, they are able to cope with difficult terrain and work in the GPS coordinates of the plots. In addition, their maintenance is carried out remotely.
lightweight, avoiding soil compaction
thanks to their solar panel
financial data
An investment over 3 years
The Vitirover company already operates 60 robots with its customers, and already has the outlets to place 50 more. 200 robots will be needed to meet demand in 2020.

Common Goods, a subsidiary of WE DO GOOD dedicated to asset management for Positive Savings, will be able to have a solar robot manufactured if € 5,000 are collected. This need could be reduced if a co-buyer intervenes at the same time or if the production cost drops.

The estimated annual income of a solar robot mower is € 4,500 excluding tax. This estimate corresponds to a conservative annual assumption. A higher rental rate would pay more royalties.

For 3 years, 40% of this income will be donated to Common Goods, which will return 94.3% to investors every quarter via the platform, for a forecast return estimated at around 3% per year.
partner company
Vitirover: 9 years of R & D
Since 2010, the Vitirover team has been working to eliminate Glyphosate by developing their autonomous industrial robot mower. After 5 generations of prototypes, the robot is fully operational and is already working on large agricultural and industrial areas in France and abroad.

Xavier David-Beaulieu founded and managed as technical director several companies in electronics and software, before returning to the family vineyard and looking for a more ecological solution for weed control.

Arnaud de la Fouchardière has created and managed several companies in marketing, communication and digital. He is an expert in Robotics and Digital Agriculture with the European Commission.

They now run their business from their establishment in Saint-Emilion.

Learn more about Vitirover
frequently asked questions.
COMMON GOODS, a subsidiary of WE DO GOOD, purchases the equipment and makes it available to the partner who operates it. This company aims to pool durable goods to accelerate the ecological transition.
---
Will I be able to benefit from the funded material?
Yes, by renting it if this equipment is available for rent. Otherwise, you will still benefit from the income it generates!
---
Yes, the operating partner may not be able to hire it sufficiently. The equipment could possibly be resold to reimburse you but it is possible that you lose all or part of your investment. Moderate your risk by diversifying your investments.
---
What happens if the hardware is damaged?
The material is systematically insured. In the event of breakage, the compensation received is used either to replace the equipment to continue operation, or to reimburse you.
---
What happens to equipment at the end of its life?
Our goal is for the material to serve as long as possible and to be recycled as much as possible when this is no longer possible.
discover the other themes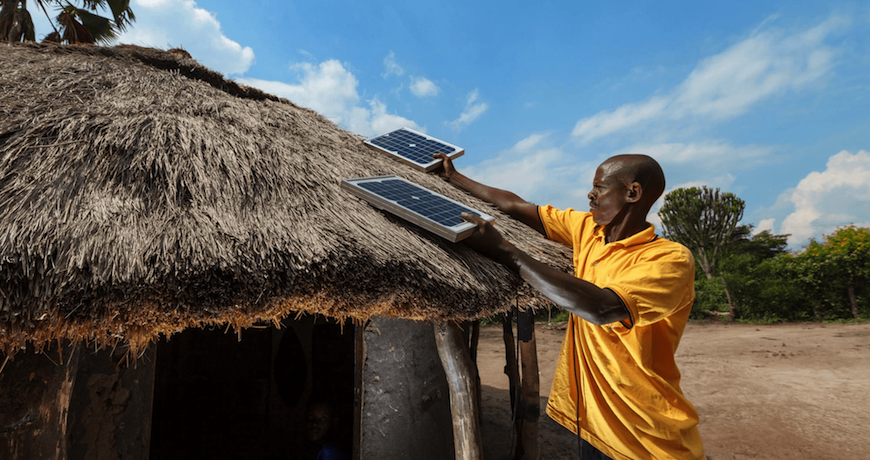 Rural Solar