INVESTING IN ROYALTIES
Receive a return on investment every three months from a company you have funded.
Available from 10 €. Average investment: 700 €.
ETHICS
The interests of investors and entrepreneurs are aligned
SIMPLE
An investment without the constraints of shareholder status
PROGRESSIVE
A rapid and gradual financial return thanks to quarterly revenues
CONCRET

E
A direct impact on your profitability through the power of your networks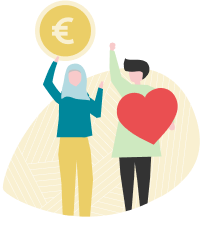 INDIVIDUALS
Make sense of your savings, participate in the economic development of your territory, support innovative and impact projects.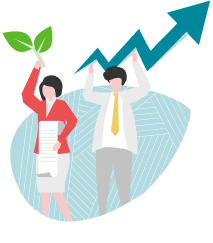 BUSINESSES, FOUNDATIONS AND COMMUNITIES
Contribute to local economic development, support sectors that speak to you, and diversify your CSR approach by investing in impact projects.
OUR OFFERS
INVESTMENT
CROWDFUNDING
Discover innovative projects by participating in the current lifts.
---
✓ Focus on start-ups and development companies and help them get started
✓ Become familiar with new industries
✓ Support the fundraising companies you know
INVESTMENT
PRIVATE
Make investing in the companies you know simpler with royalties.
---
✓ Convince a company whose capital is closed
✓ Limit the level of dilution on a new round table
✓ Gain cash on a company you're already supporting
INVESTMENT
SUSTAINABLE ASSETS
Place money in tangible and sustainable material assets.
---
✓ Participate clearly and measurably in the ecological transition
✓ A less risky investment than start-ups and more regular royalty returns
✓ Invest at its own pace, on an ad hoc or subscription basis
ROYALTIES : HOW DOES IT WORK ?
1
Invest the amount of your choice in a project
2
The funded company recovers the funds and expands
3
Receive royalties every quarter
After the fundraiser, the funded company pays a percentage of its turnover to its investors: it is royalties. You receive royalties every quarter,for the duration of the contract (usually 5 years). Moreover, as long as the company is in operation, it is committed at a minimum to pay you back your investment.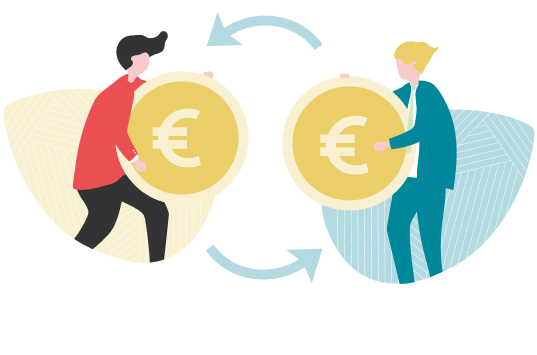 Putting your money where it makes sense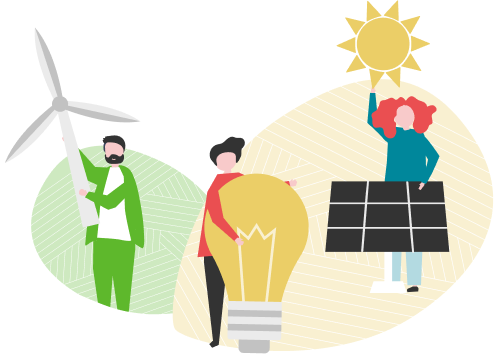 On WE DO GOOD, some entrepreneurial projects meet social or environmental needs in the heart of their business. They offer products or services that improve the situation of a population (social link, accessibility, health, education…) or solve an environmental issue (pollution, resources, biodiversity…).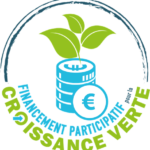 The environmental, social or economic impacts are represented by these three pictograms.
Some of these projects are labelled "Participatory Funding for Green Growth." WE DO GOOD was one of the first platforms to be awarded this label by the Ministry of Ecological and Solidarity Transition.
OUR GUARANTEES AND REGULATORY FRAMEWORK
Secure investment
During fundraising, investments are managed and secured by Lemon Way, a licensed payment institution and partner of BNP Paribas, which manages the cantonment of funds.
Framed investment
The drafting of the contract linking investors to companies was carried out by our law firm Cornet Vincent Segurel, specialist in financing innovation.
Minimum goal
Each fundraiser is validated from a minimum target corresponding to the amount allowing the project to be carried out correctly and thus guarantee a quick payment of royalties.
Engaged company
WE DO GOOD is a member of the professional association Finance Participative France, registered at ORIAS under the number 17002712 and approved as an Intermediary in Crowdfunding (IFP label). In addition, our platform is certified by Finance Innovation and has international certification B Corp.
INVESTOR TESTIMONIES

Investing in royalties means supporting another way of financing, much more transparent than that of the world of finance. By choosing to act with WE DO GOOD, I support bold and responsible values.
Didier L.

In my opinion, investing in royalties on WE DO GOOD means providing truly appropriate and long-term financing to structures that build a fairer society every day.
Anna L.

It's always nice to be able to support a project that meets our values, even without any consideration, so why not invest in royalties to follow the development of the so-called project?
Carine H.

The difference with stock exchanges is ethics (projects are necessarily invested to challenge societal issues) and measurement: the sums invested are collective, citizen and very small acabit.
Boris A.
---