/ Return on investment /
Year
1

200000

2

400000

3

800000

4

1000000

5

1000000
Targeted return on investment:
x

...
your initial investment in 5 years (i.e. +
...

%
)
Risk of losing the entire investment. Maximum return on investment: x3.
* Tax: Flat tax of 30% on the profit if you declare your income in France. Otherwise, your local tax law applies.

/ Presentation /
Read more

Pitch
WE OFFER A SOLUTION TO FIGHT OCEAN PLASTIC POLLUTION IN THE PHILIPPINES, THE 3RD BIGGEST POLLUTER IN THE WORLD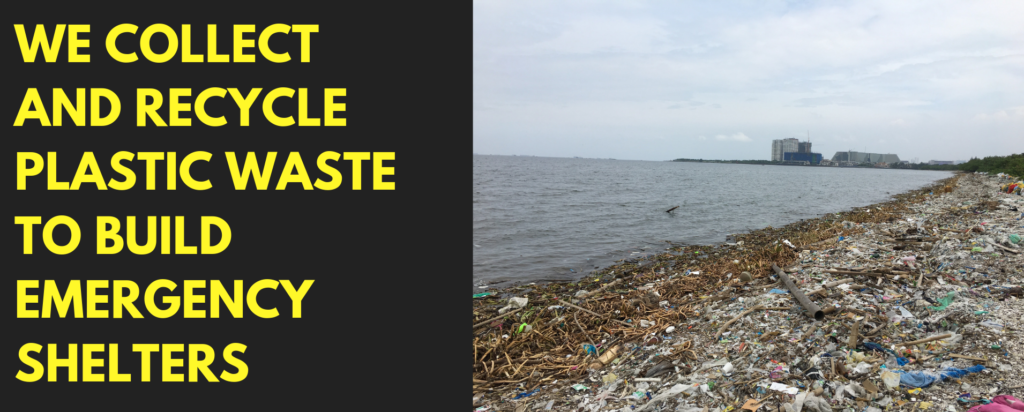 * SITUATION *
Our social enterprise answers to two main concerns:
– The ocean plastic pollution issue is one of the world′s biggest environmental problems. The impacts of marine pollution cost the world "at least US$8 billion dollars per year". 60% of marine plastic waste has originated from South-East Asia: China, Indonesia, Philippines, Vietnam, Sri Lanka, Thailand. In the Philippines, 500,000 metric tons of plastic end up in the ocean every year.
– There is a need of modular constructions in case of emergency or after a disaster. The Philippines is one of the most exposed country in the world to tropical storms with around 25 typhoons every year. Typhoon Haiyan devastated large parts of the country in November 2013. The typhoon, which was the strongest to have ever made landfall, displaced more than 4 million people, and damaged or destroyed 1.1 million homes.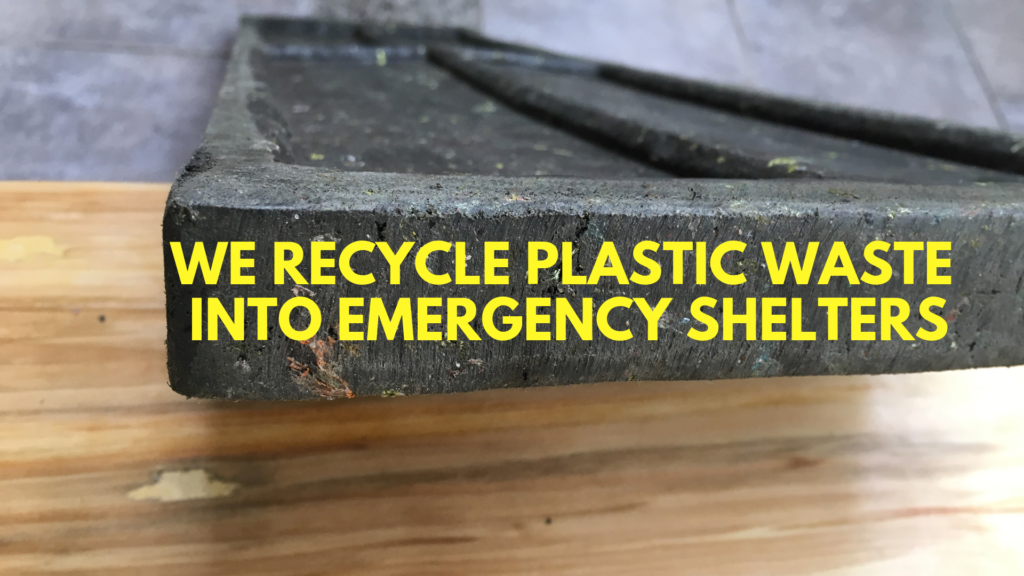 * SOLUTION *
Our mission is to:
Collect any kind of plastic waste in the environment and from local communities, schools, factories, buildings, etc. We are managing 35 collection points around Metro Manila: 6 municipalities in Cavite, Decathlon stores, Dona Maria headquarters, Chinese School, The Learning Tree school, etc.

Recycle the waste with our local partner, Envirotech Recycling: the plastics are cleaned, dried, shredded. The plastic flakes are then extruded into planks. Our main focus is on the "soft plastics" or "sachets", the less recycled today, though the most polluting in the Philippines.

Use the planks to build emergency shelters. Local communities living in costal areas have a huge need for easy-to-build constructions. The shelters are recyclage and reusable.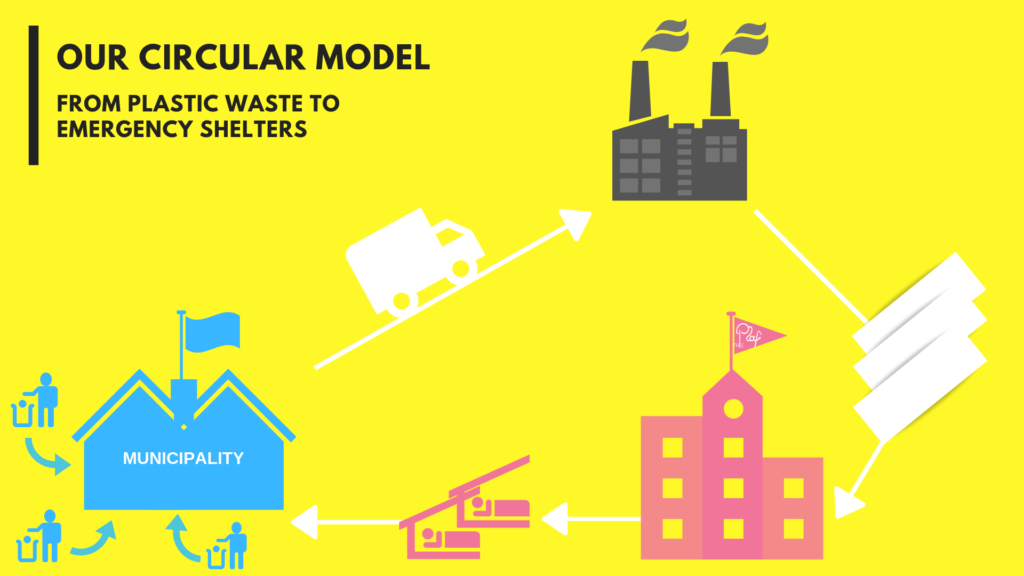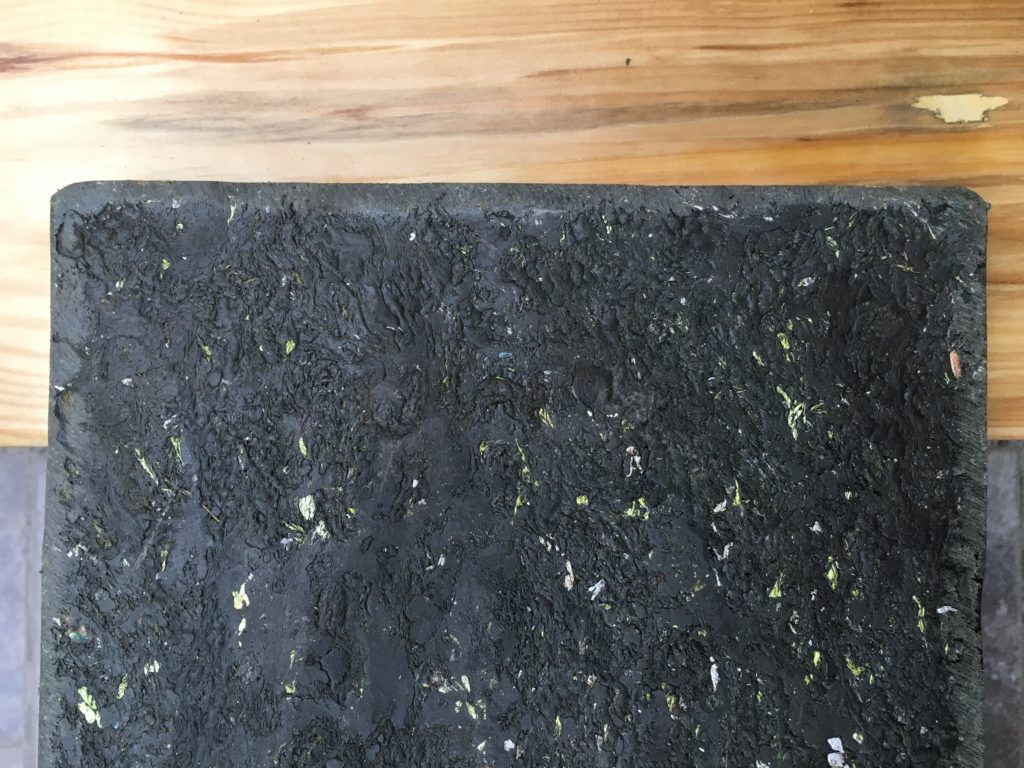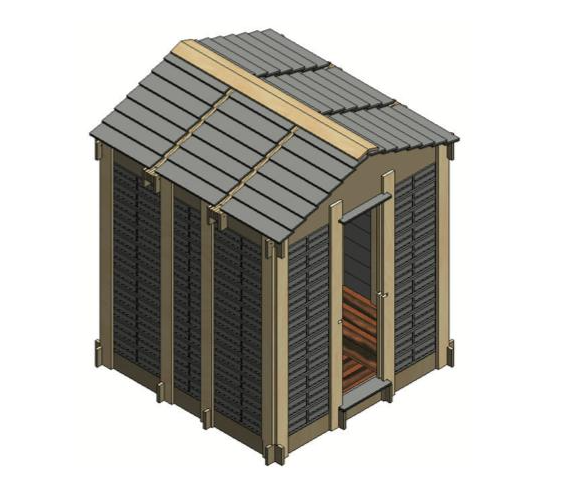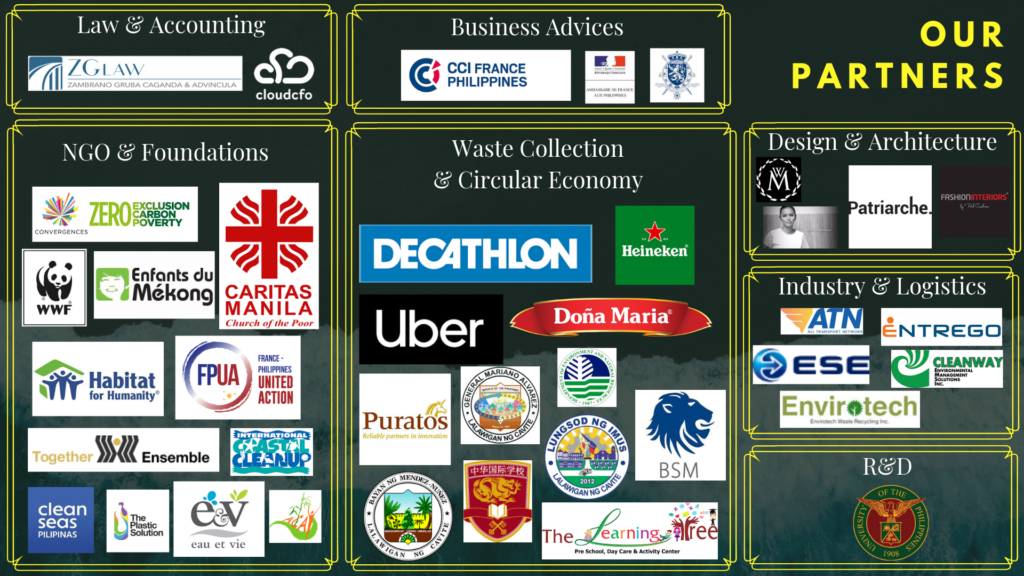 * INVESTMENT CAMPAIGN *
We need 100,000€ to start building our first 50 emergency shelters made of recycled plastic.
Your investissement
Support us and in return for your investment, once The Plastic Flamingo is generating capital, you receive quarterly 4% of revenue for 5 years.
After 5 years, you may receive up to 1.36 times your initial investment.
Your investment will give us the means to act and to have a bigger environmental positive impact!
Our structure
The Plastic Flamingo is a social enterprise created in 2018 with a capital of €30,000. François Lesage, Charlotte de Baglion and Destrand own 100% of the company.

Positive impacts
WE ARE CREATING A PLASTIC WASTE MANAGEMENT SYSTEM SUITABLE FOR DEVELOPING COUNTRIES
We are fully convinced that there is a solution to ocean plastic pollution issue in the Philippines. We aim to show the value of less valued plastic waste to local communities.
* ECONOMICAL IMPACTS *
We are driving big economical impacts:
New jobs creation for our direct partners (collection, transportation, recycling)
Adding value for soft plastic waste
New revenue for the poorest families who can sell to us any kind of plastic waste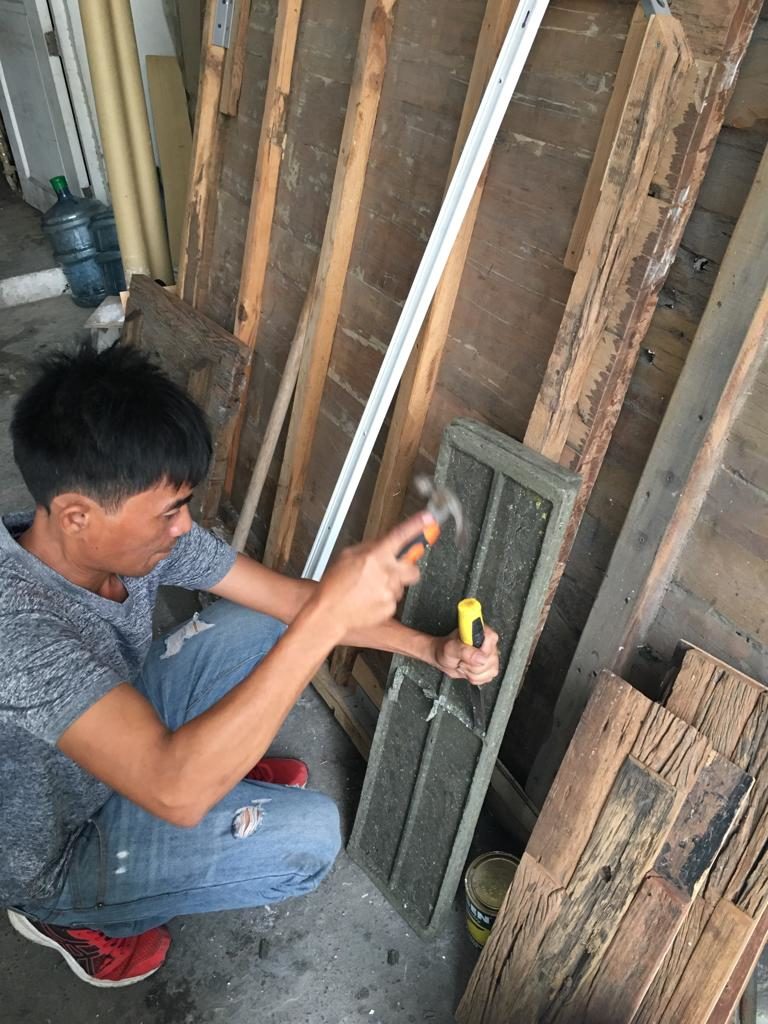 * ENVIRONMENTAL IMPACTS *
The environmental impacts are potentially huge, and this our main goal: fight ocean plastic pollution. We collect, recycle and transform as much plastic waste as possible.
We may be able to recycle up to 0.5% of plastic waste generated in the Philippines during our first year. 
Although it is still few, we know that we will be able to increase this amount every year, as more and more municipalities (6 already identified) are ready to give us their plastic waste.
* SOCIAL IMPACTS *
With 50 emergency shelters, 50 families are relocated and 17 tons of plastic waste are recycled. 
We focus our activity on emergency shelters that are needed after a typhon to relocate families for few weeks. They are easy to build and to collapse. They are also modular to be expanded if needed.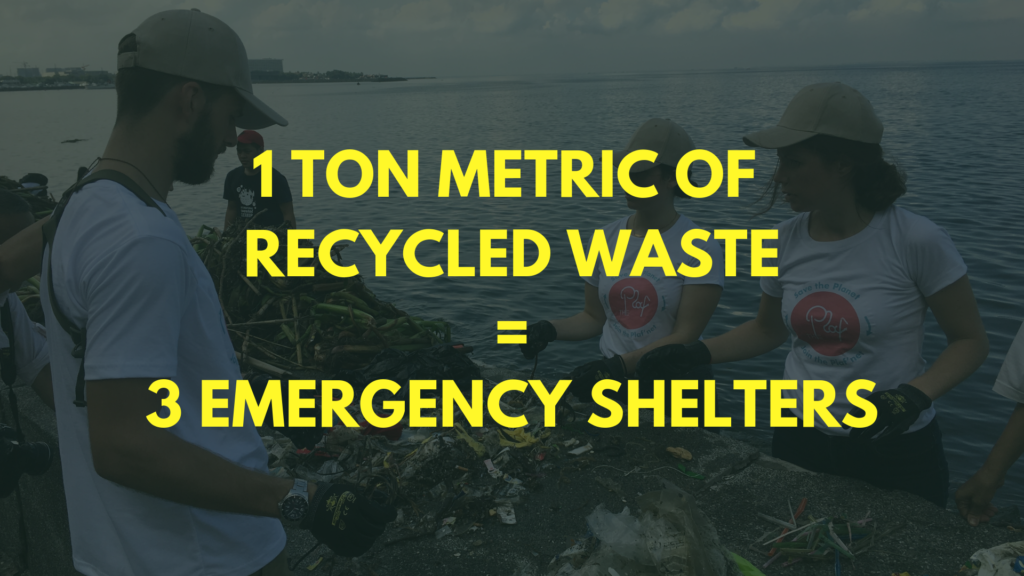 Strategy
WE BUILD EMERGENCY SHELTERS MADE OF RECYCLED PLASTIC
* OUR STRATEGY IN THE PHILIPPINES *
According to the Global Shelter Cluster, 31.2 million people in the world were identified in 2018 to be in need of shelter.
In the Philippines, Typhoon Haiyan devastated large parts of the country in November 2013. The typhoon, which was the strongest to have ever made landfall, displaced more than 4 million people, and damaged or destroyed 1.1 million homes.
The Philippines is one of the world's most disaster prone countries. It is struck by more than 20 typhoons in an average year, and with the effects of climate change that number is expected to rise.
The Worldwide and Philippines market for emergency shelters is thus sadly huge and in constant growth.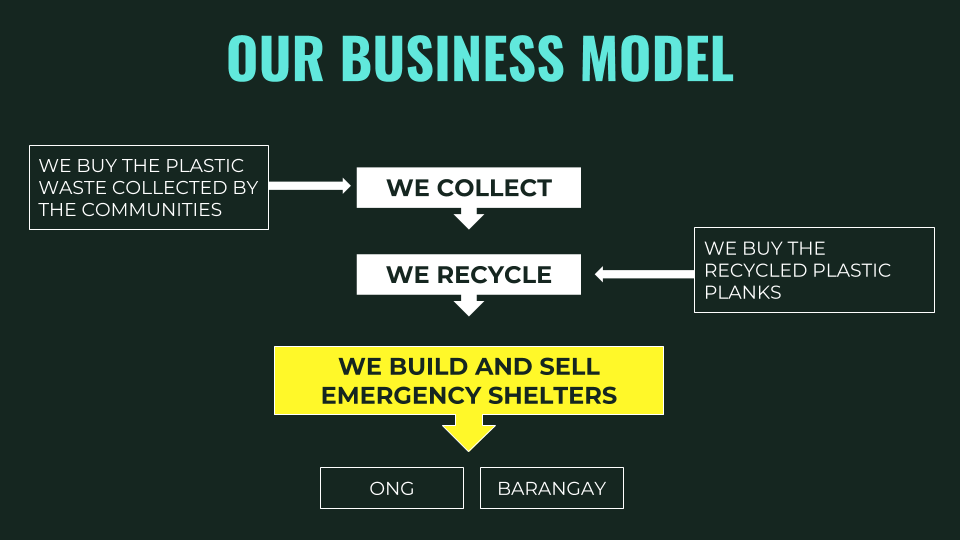 * OUR ACTIONS *
We rely on the informal networks of waste collection already existing in the Philippines to gain a critical and stable mass of plastic trash of any type. We collect any kind of plastic waste from different hubs: municipalities, schools, stores, factories, buildings.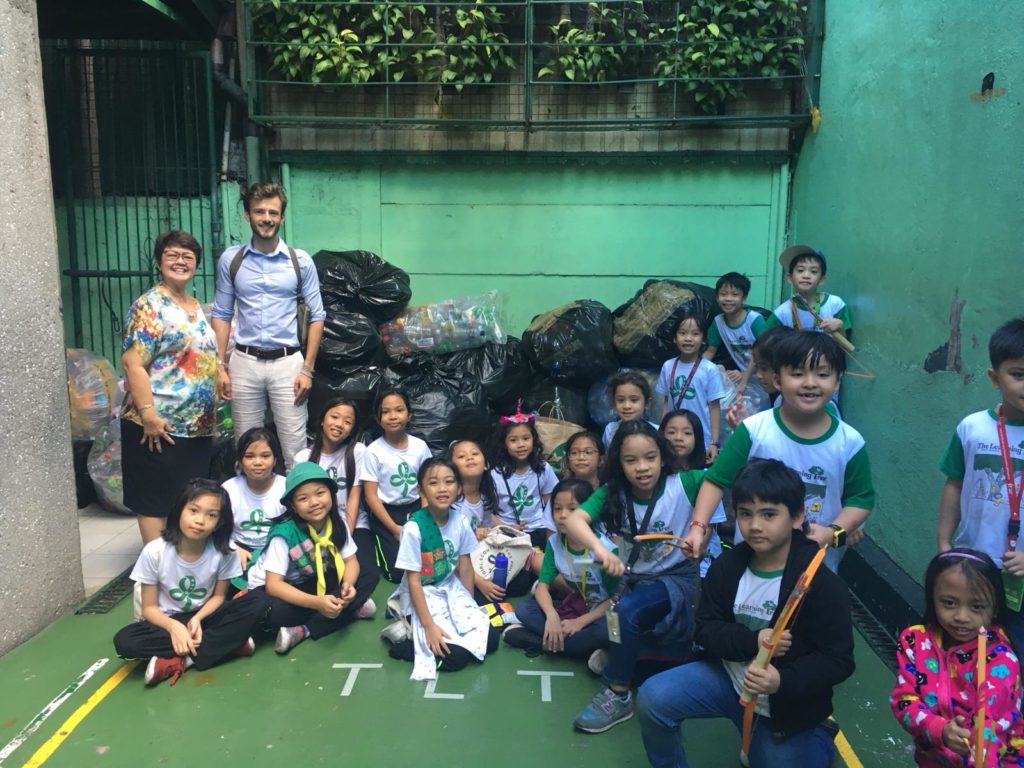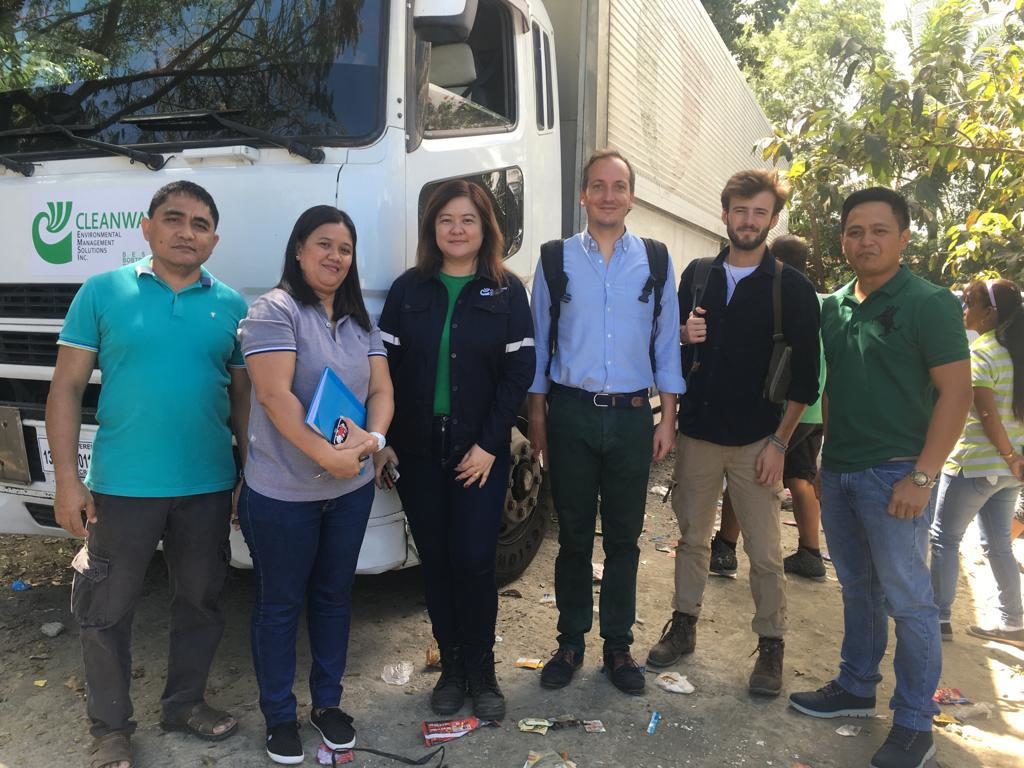 Then, we recycle the plastic waste into planks with the help of our local partner, a company specialised into soft plastic recycling. Already 4 metrics tons of plastic waste collected by The Plastic Flamingo have been recycled into planks.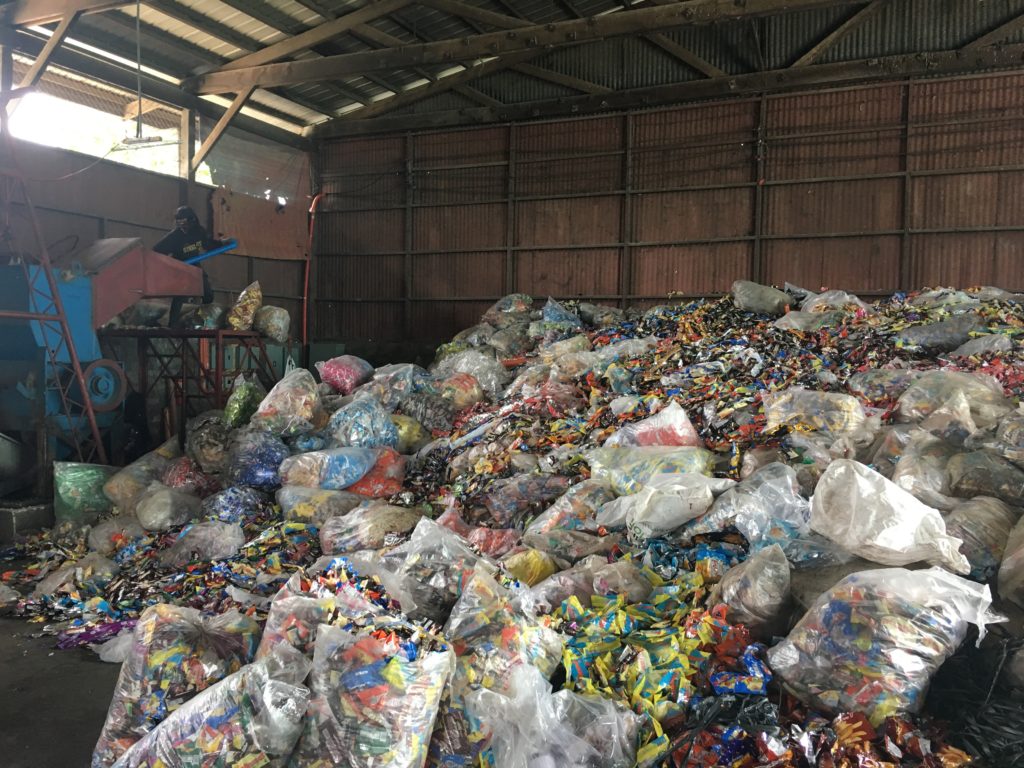 The planks are crafted to build modular constructions and emergency shelters. Our model is circular: from plastic waste collected in the municipalities, we make emergency shelters for the local communities.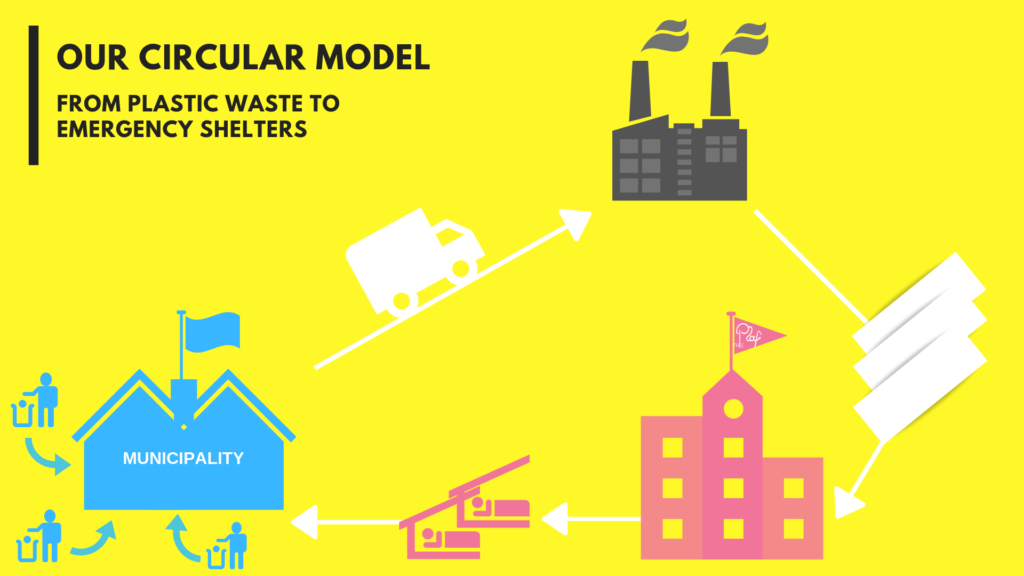 Aside from our local partners for collecting and recycling, for the transportation, for the crafting, we are also very proud to be helped and supported by a French architect firm: Patriarche. Their designers prototyped for us an emergency shelter suitable made of recycled plastic planks and to developing countries.
* DISTRIBUTION *
Our emergency shelters are sold €2,000 or P120,000 each. We sell them to the municipalities directly or to the NGOs with the support of CSR programs from international and local companies.
The shelters we design for post disaster response could also be used for addressing the very low cost houses market. They are far much stronger and better to live in than the actual ones you can see in the slums or squatter areas.
The government of the Philippines (Ministry of Industry) published datas on its website about the huge potential of this market. According to these datas, more than 3 millions of very low cost houses are needed by 2030 and between 2001 and 2011, only 27% of the demand has been supplied.
* SIDE PROJECTS *
The evolution perspectives of the project are numerous:
· We aim to create more collection hubs around Metro Manila, where any citizen can bring his own plastic waste.
· We develop complementary activities: designing of recycled plastic furniture with a Dutch designer, creating modular walls, co-construction of bancas made of wood and recycled plastic planks.
· Our future ambitions are the development of our activity in the Philippines then in Asia in order to increase our ecological and social impact in this region strongly touched by ocean plastic pollution. We have already identified similar needs and potential partners in Vietnam and India.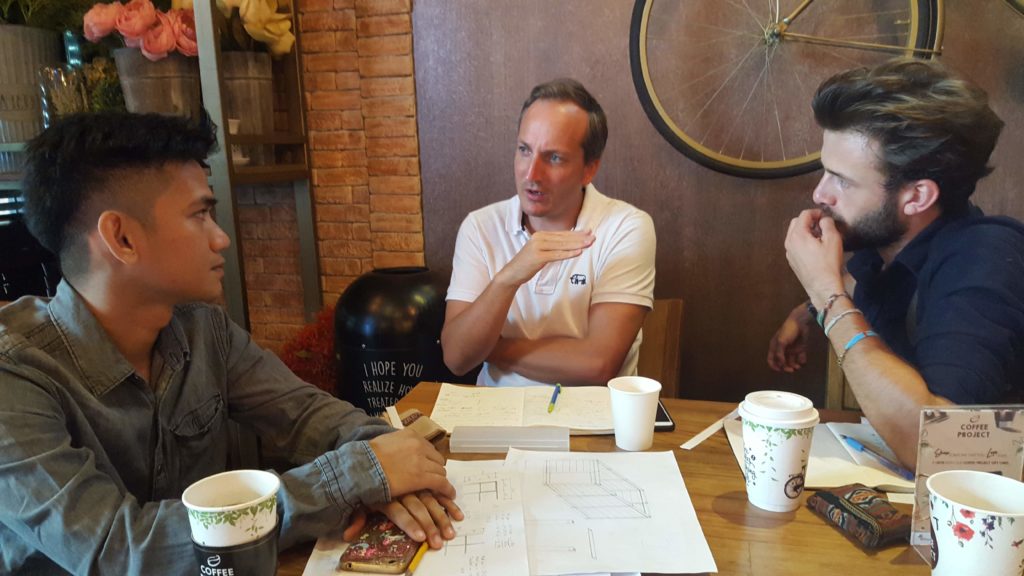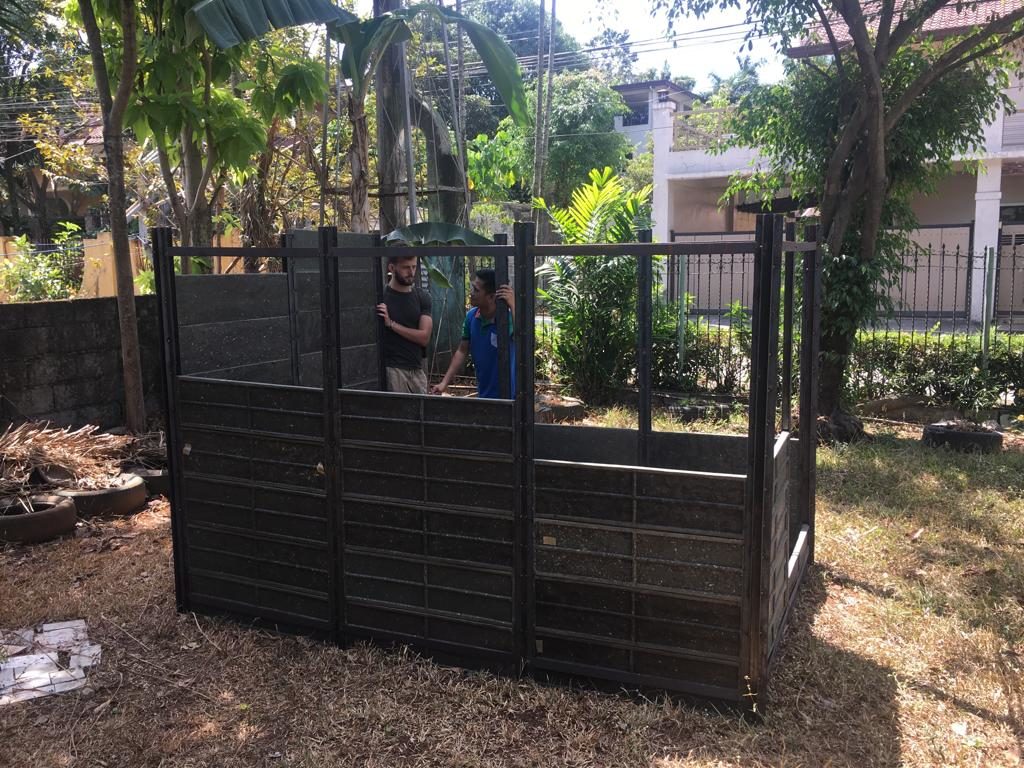 Working on the prototype of our modular walls (patented concept and design).
* RETRO-PLANNING *
March 2019: We launch our first hauling of 4 tons of plastic waste.
May 2019: Our emergency shelter prototype is built and tested.
November 2019: Our deliver our first 50 emergency shelters.

Financial data
YOUR INVESTMENT
Financing tool: royalty crowdfunding
Investment timeline: 5 years
Percentage of the revenue you will receive: 4% maximum (for €100,000)
Return on investment: +36% in 5 years (you may loose your investment)
We already have invested 30,000 € from our own money.
* OUR REVENUE *
| | | | | | |
| --- | --- | --- | --- | --- | --- |
|   | Year 1 | Year 2 | Year 3 | Year 4 | Year 5 |
| Forecast revenue | 200,000€ | 400,000€ | 800,000€ | 1,000,000€ | 1,000,000€ |

* YOUR INVESTMENT *
As soon as you support us, you receive a percentage of revenue for 5 years. If we collect 100,000€ through this campaign, each investor will be offered up to 4% of the revenue each year.
Once The Plastic Flamingo is generating capital and reaches our forecast revenue, each investor may earn +36% of his own investment in 5 years. 
What happens if The Plastic Flamingo does not reach its target? 
If The Plastic Flamingo doesn't manage to generate enough capital, but the company is still active, we keep allocating royalties to our investors until the global investment is refund. 
When do you start allocating the royalties?
The royalties will be paid from the 1st of January 2020 every quarter. 
Royalties allocation forecast for 2020:
Dates de versement
Rémunération estimée sur les revenus de :

01/01/

2020

October, November, December 

2019

01/04/2020

January, February, March 2020

01/07/2020

April, May, June 2020

01/10/2021

July, August, September 

2020
Reminder: ces figures are based on our forecast revenue. Feel free to reach out tu us would you have further inquiries. The biggest risk you take is to loose your total investment, and for the best you can earn 1.36 times your initial investment.
* RISK FACTORS *
Main risk factors linked to our activity:
•  Financial Risk: Our personal funds have already been invested to launch the activity. We now need you all to develop our actions at a bigger scale.
• Operational Risk: The operational costs for the transportation, the recycling process and the crafting are still high. We need to lower these costs to be relevant for the local market. 
• Strategic Risk: Our concept is quite unique and innovative. We will have to be careful and to protect it from the competition.

Team
WE ARE THE OCEAN PLASTIC POLLUTION FIGHTERS
* THE TEAM *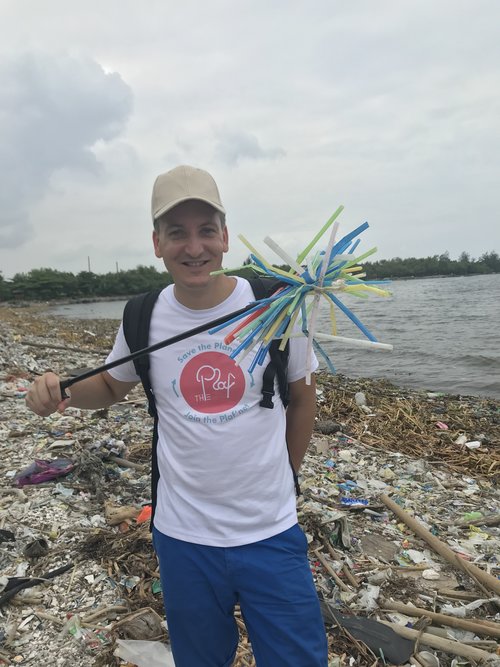 FRANÇOIS – CO-FOUNDER AND CEO
After more than 8 years of experience in organisational consulting within the best organisations in France and a year spent in the Philippines, François decided that he wanted to use his passion for ecology and adventures in a larger scale and steer the efforts of The Plastic Flamingo in depolluting our precious nature.
François is very good at designing strategies and gathering people to deliver actions. He is a visionary leader, able to inspire his team to reach business goals.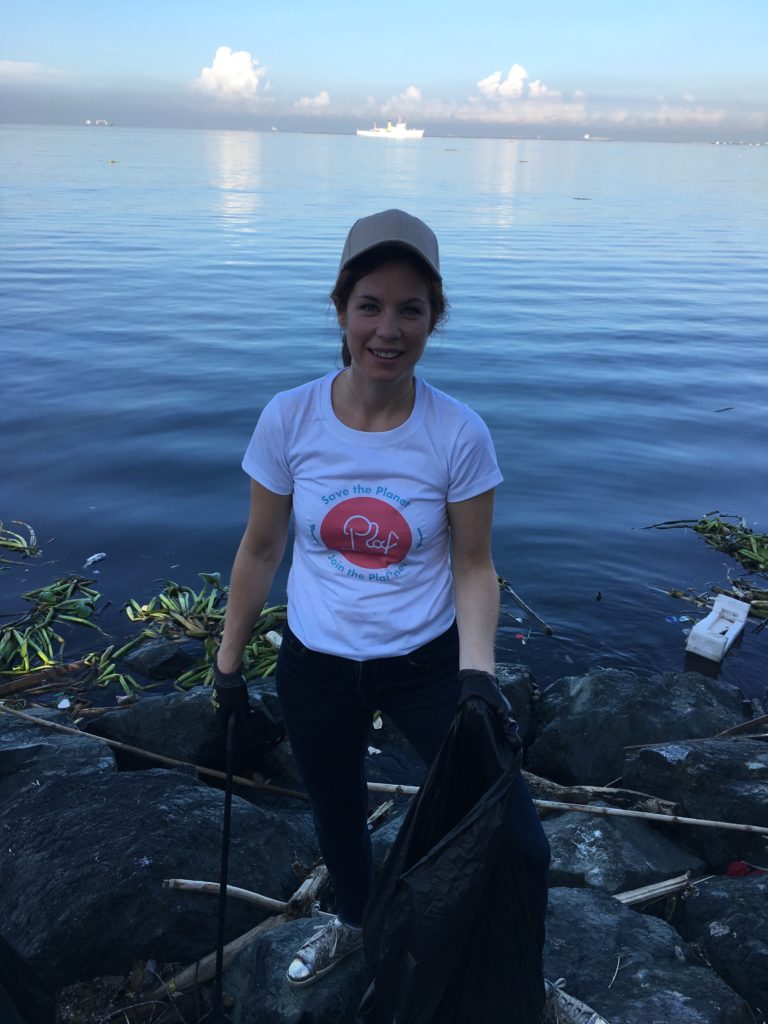 CHARLOTTE – CO-FOUNDER AND CMO
As an expert in communications and marketing for startups, Charlotte always felt concerned by global environmental issues. She decided to use her knowledge to promote ocean protection and social development in Asia.
Charlotte likes very much designing creative content to bring awareness on a project. She succeeds both online and offline to generate new leads and to find partners.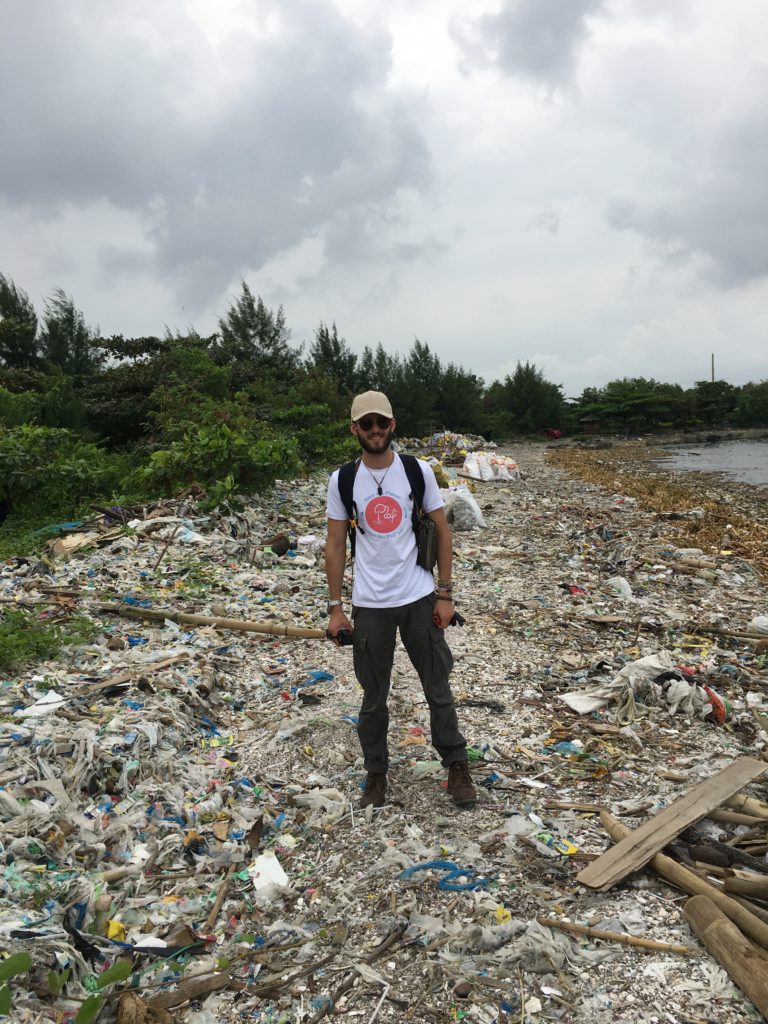 TIMOTHÉE – OPERATIONS & SALES
Having lived in two different developing countries, and being since several years, passionate about saving the environment, Tim is each day more concerned toward our planet and willing to do something about it.
Tim is in charge of the operations and the business development at The Plastic Flamingo. He is a very good negotiator, able to connect with people and build long-term relationships.
* OUR COMMUNITY *
Destrand is our associate and professional coach. Thanks to Veornique and Jean-Marie's help and advices, we managed to design our strategy, mitigate the risks and stay positive! 
Diane Gentou worked for us for 6 months. She helped us build our digital strategy and drive awareness around our project. She was very good at 'selling' The Plastic Flamingo everywhere she went! 
Ray Mart Montinola is our local carpenter. He works with us to design and build our products made of recycled plastic and metal. He will build our shelters.
Hubert d'Abboville, and his foundation Together Ensemble, introduced us to very influent and active network. He also advises us on our partnerships, especially with the NGO Caritas Philippines.
Ralph Cuazon is a student in engineering at University of The Philippines. He helps us to find a good combination to melt different plastics.
Jonas Lichando is the CEO of a company of ironworks. He is a great support and always happy to let us try and test our material in his plant.
* OUR STORY *
The Plastic Flamingo is born when François decided to launch a project about waste management in emerging countries, with the double conscious to find a solution to ocean plastic pollution issue while having a positive social impact.
François designed both an efficient plastic waste management system, flexible and suitable to developing countries, and also a recycling process able to finance the collection activities.
In June 2018, Charlotte and Tim joined the project, and they all moved to the Philippines in August 2018.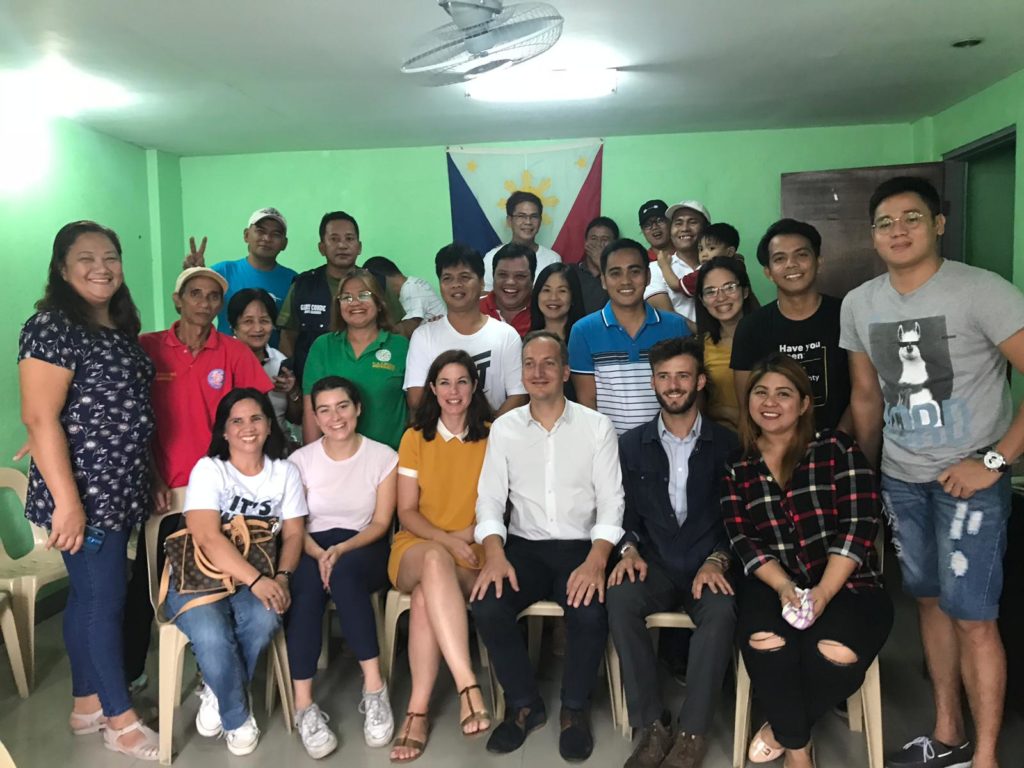 Statistics
The project evaluation and investment statistics
Evaluations
158
personnes ont évalué ce projet.
Préinvestissements
Nombre de préinvestissements : 24
Montant des préinvestissements : 14160 €
Impact et cohérence du projet
Economie :

4.3

Environnement :

4.8

Social :

4.5

Autres :

Enfin un projet concret, à la fois modeste dans ses moyens et ambitieux dans ses fins, construit avec les populations locales, ce qui se voit car on voit qu'il a déjà mobilisé et qu'il ne manque que le financement du décollage de la fusée déjà bien montée, economie de matiéres avec les polyméres collectés, Humain, Éducatif , Impact pédagogique sur les populations locales, éducation à l'environnement, Un beau projet qui répond à une problématique écologique urgente! Bravo, La solution à la problématique de la pollution plastique n'est pas traitable par ma technologie. L'approche par l'humain est l'initiative la plus prometteuse., Traiter les plastiques est un vrai sujet., éducation des consciences. Responsabilisation, Excellent projet ne lachez rien!, Je pense que ce projet aurat aussi un gros imapct sur le systeme de recyclage actuel et sur bien d'autre points , Existe-t-il un nouveau débouché pour les produits issus du recyclage des déchets plastiques ?, Capacité du modèle être mis sous licence pou filiale pour d'autres développements dans le monde , Un projet fort en lien direct avec une des problématiques majeures de notre siècle. Un projet qui permet également de sensibiliser une population qui se trouve en première ligne de la problématique de pollution des océans., Je suis heureuse que ce projet existe et prenne forme. Je suis de tout cœur avec cette entreprise. Merci, Enormément de potentiel pour ce projet ! Bon courage et merci pour votre action !, Un projet éco-responsable, courageux et audacieux qui montre une volonté de changer les choses face aux défis liés à la pollution humaine.
Notes attribuées au projet
100 %
des évaluateurs ont donné un avis positif (note supérieure à 2)
Sur ces 158 évaluateurs, 110 personnes ont déclaré qu'ils investiraient en moyenne 403.69 €. Pour un total de 44406 euros d'intentions d'investissement, soit 148.02 % de l'objectif.
ont évalué le risque, en moyenne, à : 2.8 / 5

Remarques
Les internautes aimeraient avoir plus d'informations sur :
Autres informations :
Où vont aller les premiers 50 shelter?,
Les partenaires de l'entreprise pour la fabrication et les clients potentiels,
L'équipe de soutien sur place et les motivations des gens concernés,
les clients potentiels de ces abris, ce ne sont pas les populations locales qui passeront commande mais les ONG. Il faut que ce soit leur demande si on veut des débouchés, non ?,
le business model pour générer le CA : qui seront les clients des abris, les populations souffrant des aléas climatiques et ayant besoin d'abris d'urgence étant localisées dans des pays à solvabilité faible ?,
Produit 1 : dans la construction, on voit qu'il convient d'évaluer le bilan carbone. Est-on sur que la solution la moins couteuse en carbone pour recycler ce plastique (on peut construire avec des bilans carbones négatifs aujourd'hui) ? Point 2 : les plastiques ne sont pas stables au soleil et polluent l'air, comment ce point est traité ? Pas de prévisionnel financier. Pas de présentation de l'équipe. peut-on jouer sur la defiscalisation en investissant (cela attire les business angels). Que fait on avec les 30k€ concrètement ? ,
Les clients potentiels des abris. Y a-t-il deja des engagements? Y a-t-il d'autres sources de revenus ?,
Quelle est la filière de commercialisation des abris ?,
Qui va acheter ces abris ? ,
Aspects industriels/production, distribution, marché
Investments
General

… investments validateds par … investors separate.
The investors are … years old on average.
They are …% of women and …% of men.
-
Investment on average per person: … €
Investment minimal : … €
Investment median : … €
Investment maximal : … €

They have invested
…
/ News /
No news at the moment.