INVEST IN CARS
USED IN COMMON
Finance carsharing electric vehicles and receive royalties every quarter.
Each time we reach €6,000, we finance a new vehicle, the sharing of which saves 30 tonnes of CO2.
1ST VEHICLE
UNDER FUNDING!
INVESTING IN CARSHARING FOR THE ECOLOGICAL TRANSITION
As climate change accelerates and raw materials become scarce, the use of shared rather than individual electric vehicles drastically reduces the consumption of materials while eliminating pollution in the city. The transition is already underway. Join the movement by investing in shared electric cars within your means.
You invest from €10 in a new electric vehicle. We buy this material as soon as the necessary amount is met.
The vehicle is entrusted to our partner Free Mob. It uses it for its customers who benefit from an ecological means of transport.
You receive royalties on this operation every quarter until you reach a gross multiple of x1.03 over a forecast period of 1 year.
FINANCED ASSETS
Together, we have already funded and activated:
40+
solar kits
for access to renewable energy in the Senegalese countryside
10
Vitirover solar robot mowers
to limit the use of herbicides
9
"Fairphone" smartphones
for sustainable electronics
33
sheeps to develop eco-grazing
Find them on the map of financed assets.
RETURN ON INVESTMENT
0
% du chiffre d'affaires de
0
Véhicule électrique
pendant 1 years (estimated percentage)
I.e. in total
0
€
(gross) according to to the project owner's forecast:
Targeted return on investment:
x

...
your initial investment in 1 years (i.e. +
...

%
)
Risk of losing the entire investment. Maximum return on investment: x1,03.
* Tax: Flat tax of 30% on the profit if you declare your income in France. Otherwise, your local tax law applies.
Le pourcentage peut varier selon le coût d'achat final de l'actif mais le rendement visé reste le même.
PRESENTATION
SOLUTION
Invest in light electric vehicles to share to accelerate the ecological transition, one car after another.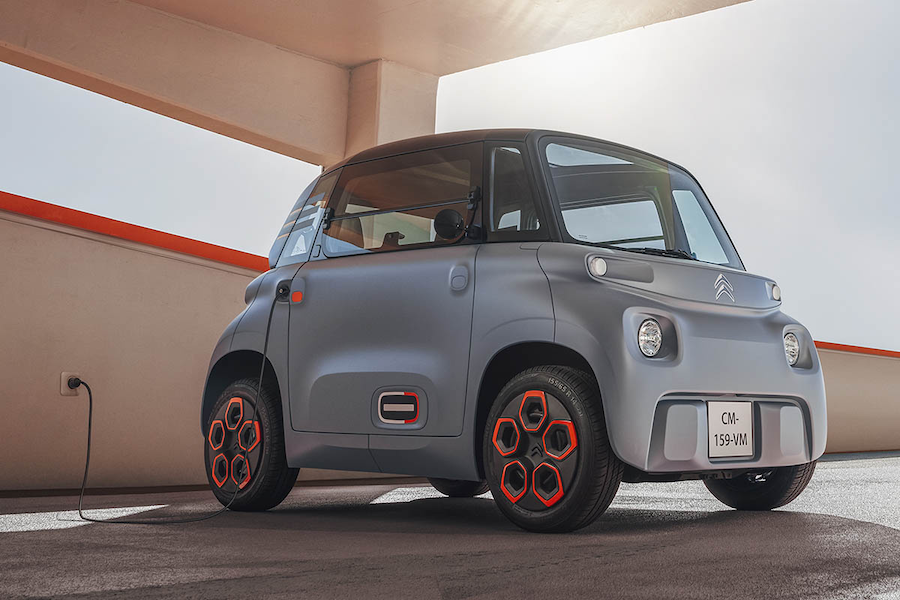 Problems
Transport is the main source of GHG emissions
Transport accounts for 25% of greenhouse gas emissions worldwide and 41% in France. Road transport accounts for 94% of these emissions. It is therefore urgent to act at all levels in this sector to limit our carbon footprint.
Air pollution is a public health problem
In France, between 40,000 and 100,000 deaths per year are linked to air pollution (more than 8 million worldwide). Depending on the locality, it can cause up to 2 years of life expectancy to be lost. Air pollution also plays a role in reproductive disorders, child development disorders, neurological conditions and type 2 diabetes. This pollution is mainly due to the combustion of fossil fuels, and particularly in transport.
Clutter in public space and overconsumption of materials
Each vehicle consumes a given amount of material and energy to manufacture and transport, even though it is idle 95% of the time. For an electric vehicle, most of its impact comes from its manufacture, and in particular from the battery. Manufacturing thus represents approximately 6 tonnes of CO2 equivalent per vehicle.
---
Solution
Light electric vehicles are made available to residents or passers-by in self-service (free floating), to facilitate their transition to soft and low-carbon mobility. These users simply pay a rent proportional to their use of the vehicles.
Each vehicle brings:
RESOURCES SAVED
tonnes CO2e
The use of a car-sharing vehicle makes it possible to replace between 5 and 10 individual vehicles, and therefore their materials and the related greenhouse gas emissions.
LESS GREENHOUSE EFFECT
An electric vehicle limits dependence on fossil fuels and saves by limiting CO2 emissions during use compared to a thermal vehicle.
LESS NOISE,
LESS TRAFFIC
An electric vehicle emits very little noise during its use and thus limits noise pollution.
CLEANER AIR
0 EMISSION OF POLLUTANTS
An electrically assisted car emits no pollutants into the air during use, and little noise.
DONNÉES FINANCIÈRES 
A fixed multiple investment over a forecast period of 1 year
On this Positive Savings booklet, we offer you to receive royalties until you recover a multiple of 1.03 times your investment. This duration is variable and depends on the performance of the partner company, Free Mob.
Free Mob is deploying a fleet of electric car-sharing vehicles in Nice, to begin with. Users pay per use.
Common Goods, a subsidiary of WE DO GOOD dedicated to asset management for Positive Savings, will be able to acquire 1 electric vehicle if €6,000 are collected. This need may be reduced if a co-financier intervenes at the same time or if the manufacturing or installation cost drops.
The annual income of an electric vehicle with this model is estimated at €10,800 excluding tax for 3 years. A share of Free Mob's turnover equivalent to 21% of these revenues will be paid to Common Goods, which will distribute them quarterly to investors via the platform. After one year, your royalty rights are redeemed by Common Goods. The estimated forecast return is greater than 3% gross per year.
If Free Mob grows its business faster, you will collect your multiple faster. Therefore, your return will be higher. Conversely, slower development can slow your return and decrease your performance. In any case, the amount you will receive remains the same and based on the value of the electric vehicle. There is a residual risk of losing part of your investment in the event of default of the partner and the vehicle.
ENTREPRISE PARTENAIRE 
Free Mob

Free Mob is deploying a first fleet of light electric car-sharing vehicles in Nice, before other cities.
Free Mob's solution allows anyone with a smartphone to use a vehicle without having to pay maintenance or fuel costs. Free Mob chose the Citroën AMI as the first vehicle available, for its small size and its accessibility because it can be used without a licence. This two-seater vehicle is also safer than a scooter or a bicycle for its users.
Created in 2021, Free Mob is managed by Alexandre Hattab and based in Nice.
FREQUENTLY ASKED QUESTIONS
Who owns the equipment?
COMMON GOODS, a subsidiary of WE DO GOOD, purchases the equipment and makes it available to the partner who operates it. This company aims to pool durable goods to accelerate the ecological transition.
---
Will I be able to benefit from the funded material?
Yes, if you live or are visiting a city where Free Mob is located. Otherwise, you will still benefit from the income it generates! The ownership of the equipment guarantees the royalties of the investors.
---
Is it risky to invest in an electric vehicle?
Yes, the operating partner may not be able to hire it sufficiently. The equipment could possibly be resold to reimburse you but it is possible that you lose all or part of your investment. Moderate your risk by diversifying your investments.
---
What happens if the hardware is damaged?
The material is systematically insured. In the event of breakage, the compensation received is used either to replace the equipment to continue operation, or to reimburse you.
---
What happens to equipment at the end of its life?
Our goal is for the material to serve as long as possible and to be recycled as much as possible when this is no longer possible.
---
* Where do the figures presented come from?