/ Return on investment /
Year
1

300000

2

654000

3

1200000

4

2095000

5

3500000
Targeted return on investment:
x

...
your initial investment in 5 years (i.e. +
...

%
)
Risk of losing the entire investment. Maximum return on investment: x3.
* Tax: Flat tax of 30% on the profit if you declare your income in France. Otherwise, your local tax law applies.

/ Presentation /
Read more

Pitch
NOTRE LEVÉE DE FONDS 
Depuis sa création, Le Lab de l'Endo n'a encore organisé de levée de fonds. Cette levée participative à hauteur de 200 000€ est ainsi la première de notre histoire. 
Cette première levée de fonds va nous permettre de concrétiser notre refonte de marque, developper de nouveaux produits et pérenniser une stratégie de communication pour assurer au Lab de l'Endo une notoriété à hauteur de ses ambitions. 
Des ambitions que nous souhaitons partager avec vous au travers de ce modèle de financement. Un modèle « gagnant-gagnant ». Si le Lab de l'Endo prend son envol, votre retour sur investissement ne sera que plus grand. Dans cet esprit, nous avons décidé d'offrir des royalties sur 5 ans pour faire profiter les investisseurs du développement de nos ventes. 
QUEL EST LE RENDEMENT VISÉ ? 
RETOUR SUR INVESTISSEMENT
Les investisseurs recevront chaque trimestre une part de notre chiffre d'affaires : 3,7% pour 200 000 maximum € investis. Cette part sera proportionnelle aux investissements. En d'autres termes, si nous réalisons notre prévisionnel, la rentabilité pour les investisseurs sera de +43% sur 5 ans. 
L'objectif si on dépasse nos prévisions de chiffre d'affaires est de tripler (avant impôts) le montant investi. Afin d'offrir un maximum de garantie à nos investisseurs, une clause prévoit que si la somme investie n'est pas remboursée dans les 5 ans, la durée du contrat est prolongée jusqu'à ce que le remboursement de 1,15x la somme investie soit atteint.
RENDEMENT MAXIMUM
Dans le cas où l'évolution du chiffre d'affaires est très largement supérieure à l'hypothèse retenue au départ, le contrat ne prend pas fin pour autant une fois le versement de royalties égal à 3 fois la somme investie. 
UNE VÉRITABLE OFFRE D'INVESTISSEMENT GAGNANT-GAGNANT

Mode de financement : Investissement en royalties
Durée de l'investissement : 5 ans
Pourcentage de chiffre d'affaires versé chaque trimestre : 3,7 % maximum (pour 200 000 € levés)
Rentabilité visée : +43 %  bruts en 5 ans
(risque de perte intégrale de l'investissement, gain maximum limité x » l'investissement)


Positive impacts
MAIS AUSSI UN IMPACT FORT SUR : 
– SUR LE LIEN SOCIAL
Nous avons créé le 1er répondeur vocal gratuit de témoignage pour libérer la parole sur l'endométriose. Nous relayons tous les messages sur le compte @sav.endo pour leur donner la parole et rendre accessibles leurs témoignages à toutes les autres femmes qui ont besoin de conseils et partage pour se sentir moins seules
Nous avons bientôt 3000 abonnées sur le compte Instagram.
Et + de 150 témoignages reçus sur notre répondeur vocal.

– SUR LES CONDITIONS DE VIE 
Nous avons aujourd'hui + de 2500 clientes uniques, avec un taux de récurrence de +30% qui ont passé commande sur notre boutique de produits naturels pour soulager les symptômes de l'endométriose.
Nous avons aussi des avis clients qui prouvent de l'efficacité de nos produits pour soulager leurs douleurs. Et des messages de remerciement enregistrés dans la story à la une sur le compte Instagram de la boutique en ligne @lelabdelendo (+18K abonnés) dans la story à la une « VOS MESSAGES ».
– SUR LA RECHERCHE 
Au travers de notre engagement Gandee nous reversons 1% de notre CA à Endofrance, la 1ère association française de lutte contre l'endométriose, pour soutenir le financement de la recherche scientifique sur la maladie.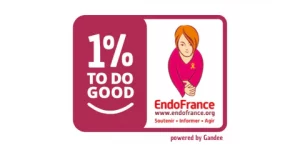 Financial data
Target profitability

x1,43 en 5 ans

(+43,37 % raw)




Risk of full loss of investment, maximum gain: x3




Minimum gain as long as the company is in business: x1,15

Royalties paid quarterly

2,34 % maximum




% of turnover paid to all investors, for 126 690,00 € raised, proportional to the amount raised
Revenues and funding project
We have already gathered 0,00 €
Capital social de la société : 10k€
Over the 12 months preceding the fundraising, we achieved 200 000,00 € in turnover.

Sanaflow's fundraisings on WE DO GOOD

Current fundraising - 1 646,00 €
19/09/2022 - 73 310,00 €


| | Year 1 | Year 2 | Year 3 | Year 4 | Year 5 |
| --- | --- | --- | --- | --- | --- |
| Number of sales | 0 | 0 | 0 | 0 | 0 |
| Projected revenue | 300 000,00 € | 654 000,00 € | 1 200 000,00 € | 2 095 000,00 € | 3 500 000,00 € |
Your investment
By investing, you subscribe to Sanaflow for a royalty on the company's turnover, proportional to your investment. The total investors will receive 2,34 % from the turnover achieved each year for a fundraising of 126 690,00 €.
If Sanaflow realizes its forecast, the return for each investor will be 43,37 % gross to 5 years.
Calculate my return

What happens if the forecast is not reached?
In the event that the forecast is not reached after 5 years and the activity continues, Sanaflow will continue to pay the royalties until a return of 1,15 times the amount invested is reached.

When do payments start?
The Royalty is transferred over a period of 5 years from 01/07/2023 and will be paid to investors on a quarterly basis.

All these elements will appear in your contract during the investment.

See the standard contract
This contract is a model, it does not serve as a real contract.
Provisional payment schedule
Attention: these figures are based on an estimate of our turnover. It's up to you to evaluate the forecast and the strategy to estimate whether you can expect to earn more or less than the announced annual return.
Estimated compensation on income of:
Date of payment
2023
July, August, September
15/10/2023
October, November, December
15/01/2024
2024
January, February, March
15/04/2024
April, May, June
15/07/2024
July, August, September
15/10/2024
October, November, December
15/01/2025
2025
January, February, March
15/04/2025
April, May, June
15/07/2025
July, August, September
15/10/2025
October, November, December
15/01/2026
2026
January, February, March
15/04/2026
April, May, June
15/07/2026
July, August, September
15/10/2026
October, November, December
15/01/2027
2027
January, February, March
15/04/2027
April, May, June
15/07/2027
July, August, September
15/10/2027
October, November, December
15/01/2028
2028
January, February, March
15/04/2028
April, May, June
15/07/2028
Risk factors
Key risk factors related to the activity and project
Risk related to the financial situation of the company
Currently, prior to the completion of the fundraising of this offer, the company does not have, with sufficient net working capital to meet its obligations and cash flow needs for the next 6 months.
Sources of funding under consideration in connection with the project presented for the next 6 months:
- Réseau Entreprendre Lyon : Actuellement en cours de process pour l'obtention d'un prêt d'honneur de 60k€
- Emprunt bancaire : le renforcement de nos capitaux propres ainsi que le prêt d'honneur confirmerons un nouvel emprunt bancaire de 100k€
- Aide BPI : un dossier "Innovation" est à l'étude concernant le développement de nos produits. Il s'agirait également d'un prêt d'honneur. 
Principaux facteurs de risque liés à l'activité et au projet :
Notre business model actuel repose sur un investissement élevé en marketing et communication. Nous ne pouvons pas mesurer avec exactitude la corrélation entre les montants dépensés et le revenu exact espéré, nous ne pouvons en faire qu'une estimation en nous comparant à d'autres marques avec les mêmes stratégies de développement.
Nous sommes la première marque à s'engager pour l'endométriose, ce qui est un élément différenciant sur ce marché tout nouveau, mais nos premiers produits (la ceinture bouillotte et l'infusion pour l'endométriose), sont chacun des produits sur des marchés concurrentiels, même s'ils ont des éléments différenciants.
Le risque lié à la situation financière, avant la réalisation de la levée de fonds que nous proposons, est que la société ne dispose pas d'un fonds de roulement net suffisant pour faire face à ses obligations et à ses besoins de trésorerie pour les 6 prochains mois. C'est pour cela que nous avons besoin de la levée de fonds pour nous développer ainsi que de prêts complémentaires, qui sont en cours d'activation auprès de la banque, du Réseau Entreprendre, et par la suite de la BPI.
Notre avantage concurrentiel principal est notre personal branding, notre histoire, notre personnalité, ce qui est incopiable, et qui nous a valu de rassembler une aussi grande communauté engagée et active en une première année. Mais il faut garder en tête que sinon, d'autres acteurs peuvent entrer sur le marché et essayer de nous copier. Conserver notre avantage concurrentiel en continuer à grandir rapidement est donc un facteur clé de succès.
No.B.: over time, new risks may emerge and those presented may evolve.

To receive our detailed business plan, contact us at lelabdelendo@gmail.com

Statistics
The project evaluation and investment statistics
Investments
General

… investments validateds par … investors separate.
The investors are … years old on average.
They are …% of women and …% of men.
Investissement terminé
Investment on average per person: … €
Investment minimal : … €
Investment median : … €
Investment maximal : … €

They have invested
…
/ News /
No news at the moment.