/ Return on investment /
Year
1

86500

2

436075

3

707500

4

874450

5

1030025
Targeted return on investment:
x

...
your initial investment in 5 years (i.e. +
...

%
)
Risk of losing the entire investment. Maximum return on investment: x3.
* Tax: Flat tax of 30% on the profit if you declare your income in France. Otherwise, your local tax law applies.

/ Presentation /
Read more

Pitch


Positive impacts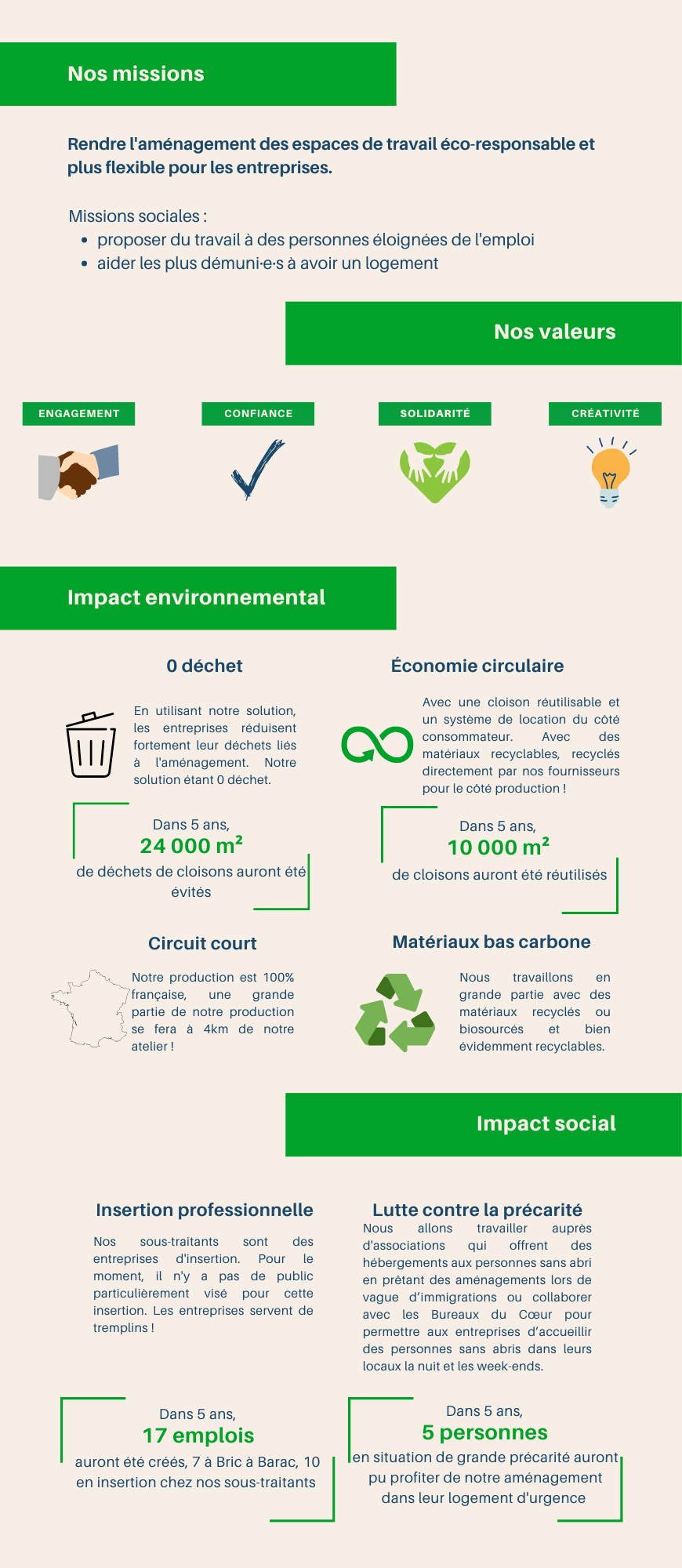 Strategy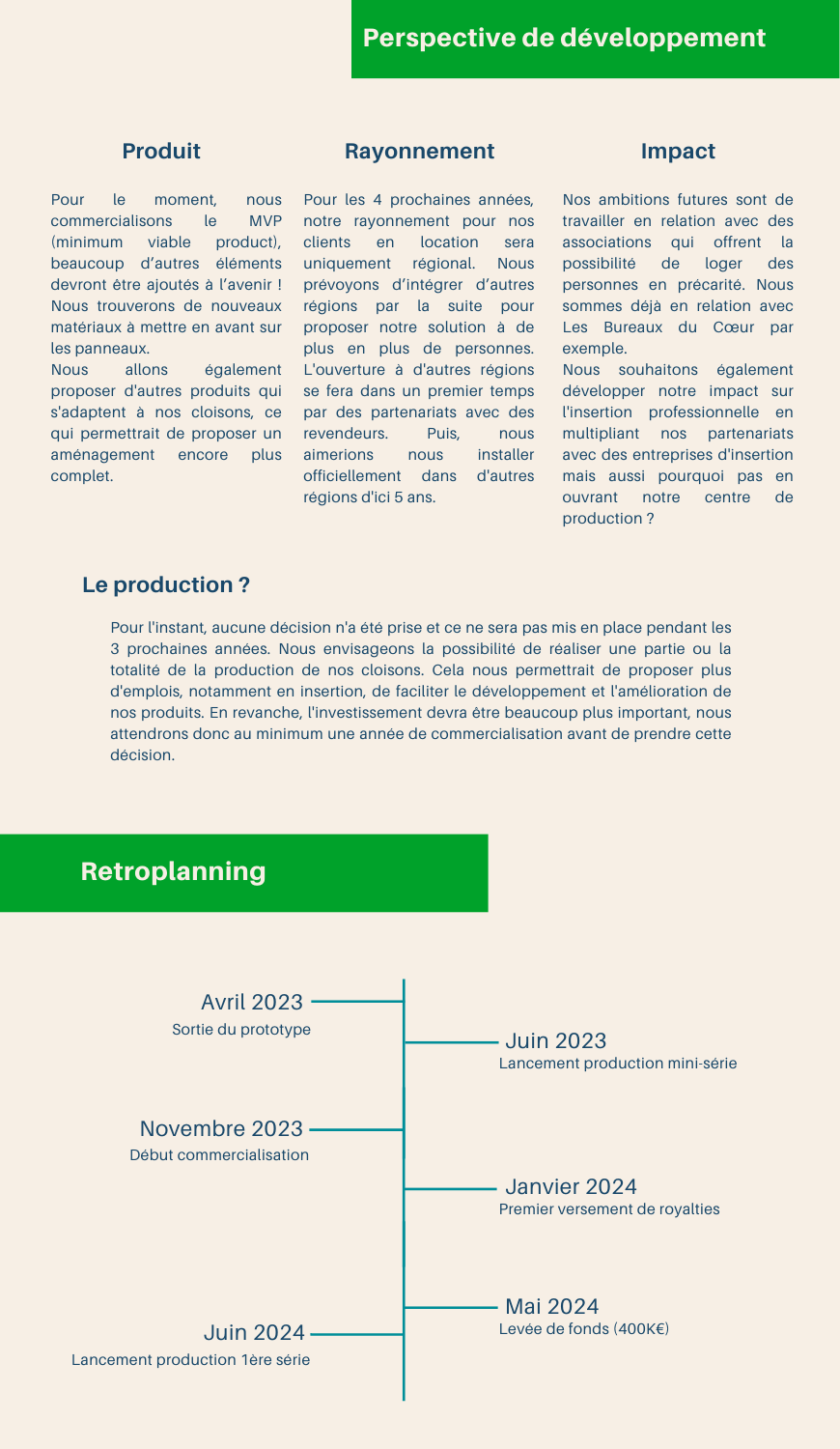 Financial data
Target profitability

x1,57 en 5 ans

(+56,79 % raw)




Risk of full loss of investment, maximum gain: x3




Minimum gain as long as the company is in business: x1,15

Risk

Moderate risk




rated at 2.69/5 by Internet users during the evaluation phase

Royalties paid quarterly

0,72 % maximum




% of turnover paid to all investors, for 14 394,00 € raised, proportional to the amount raised
Revenues and funding project
We have already gathered 55 000,00 €
1Kubator a investi 35 000€ dans Bric à Barac en juin 2022
Bric à Barac a obtenu une subvention de 20 000€ de la BPI, avec la Bourse French Tech
Over the 12 months preceding the fundraising, we achieved 0,00 € in turnover.

Bric à Barac SAS's fundraisings on WE DO GOOD

Current fundraising - 0,00 €
18/09/2023 - 95 606,00 €


| | Year 1 | Year 2 | Year 3 | Year 4 | Year 5 |
| --- | --- | --- | --- | --- | --- |
| Number of sales | 18 | 63 | 99 | 120 | 148 |
| Projected revenue | 86 500,00 € | 436 075,00 € | 707 500,00 € | 874 450,00 € | 1 030 025,00 € |
Your investment
By investing, you subscribe to Bric à Barac SAS for a royalty on the company's turnover, proportional to your investment. The total investors will receive 0,72 % from the turnover achieved each year for a fundraising of 14 394,00 €.
If Bric à Barac SAS realizes its forecast, the return for each investor will be 56,79 % gross to 5 years.
Calculate my return

What happens if the forecast is not reached?
In the event that the forecast is not reached after 5 years and the activity continues, Bric à Barac SAS will continue to pay the royalties until a return of 1,15 times the amount invested is reached.

When do payments start?
The Royalty is transferred over a period of 5 years from 01/10/2023 and will be paid to investors on a quarterly basis.

All these elements will appear in your contract during the investment.

See the standard contract
This contract is a model, it does not serve as a real contract.
Provisional payment schedule
Attention: these figures are based on an estimate of our turnover. It's up to you to evaluate the forecast and the strategy to estimate whether you can expect to earn more or less than the announced annual return.
Estimated compensation on income of:
Date of payment
2023
October, November, December
15/01/2024
2024
January, February, March
15/04/2024
April, May, June
15/07/2024
July, August, September
15/10/2024
October, November, December
15/01/2025
2025
January, February, March
15/04/2025
April, May, June
15/07/2025
July, August, September
15/10/2025
October, November, December
15/01/2026
2026
January, February, March
15/04/2026
April, May, June
15/07/2026
July, August, September
15/10/2026
October, November, December
15/01/2027
2027
January, February, March
15/04/2027
April, May, June
15/07/2027
July, August, September
15/10/2027
October, November, December
15/01/2028
2028
January, February, March
15/04/2028
April, May, June
15/07/2028
July, August, September
15/10/2028
Risk factors
Key risk factors related to the activity and project
Risk related to the financial situation of the company
Currently, prior to the completion of the fundraising of this offer, the company does not have, with sufficient net working capital to meet its obligations and cash flow needs for the next 6 months.
Sources of funding under consideration in connection with the project presented for the next 6 months:
Prêt d'honneur : 40 000 € (juillet 2023)
Subvention de la métropole de Grenoble : 20 000 €
L'évolution des normes sur différents aspects, pour l'instant notre aménagement est considéré comme du mobilier donc nous avons moins de normes applicables. En revanche, nous prenons les devants pour respecter au maximum les normes des cloisons classiques, pour la résistance au feu notamment. Dans le cas de l'évolution de la norme nous devrions dépenser 20 000€ pour un avis technique expérimental.
No.B.: over time, new risks may emerge and those presented may evolve.

To receive our detailed business plan, contact us at sophie@bricabarac.fr

Team


Statistics
The project evaluation and investment statistics
Evaluations
137
persons have evaluated this project.
Preinvestment
Number of preinvestments: 0
Amount of preinvestments: 0 €
Impact and consistency of the project
Economy:

4.4

Environment:

4.6

Social:

4.3

Others:

aider une jeune entreprise, Une sensibilisation générale des employés utilisant les bureaux, une nouveauté dans la construction qui doit devenir renouvelable car elle est la base de tout nouveau projet , Je ne connais pas la tarification appliquée sur les concurrents et cette information pourrait être utile. En effet, pour les non initiés, l'offre ne parait pas onéreuse. Que font les potentiels concurrents, modulo leurs matériaux et impacts écologiques et éthique planétaire ? Sinon, le projet semble tout a fait stable et porteur. La rémunération proposée est aussi intéressante., culturel, Impact très fort sur les mentalités avec la sensibilisation due aux partenariats universitaires + un impact fort sur les mentalités des employés des entreprises qui utiliseront les cloisons (augmenter par la modularité et le turnover des cloisons !) , Équipe composé d'ingénieurs jeunes et dynamique!, Projet qui s'inscrit dans l'économie circulaire qui est une solution d'avenir de la mutation de notre société, En espérant que le projet puisse rapidement s'élargir à l'idée de base, en revenant sur l'aménagement de logements d'urgence !, Inclure le recyclage des matériaux des cloisons elles mêmes une fois classées usées/hors d'usage (quel est leur indice de réparabilité? Seront-ils réutilisés ? Ou donnés ?), à bon entendeur ;), Sujet très actuel, dans un contexte où les entreprises réfléchissent comment aménager les bureaux de façon plus durable
Rates
100 %
of evaluators have given a positive notice (rate superior to 2)
Among these 137 evaluators, 80 persons have declared they would invest on average 845.25 €. For a total of 67620 euros of investment intention, ie 676.2 % of the goal.
have rated the risk, on average, to: 2.69 / 5

Remarks
Users would like to have more information on:
Other information:
Comment est produit la première cloison avant d'être réutilisée ? Issue du renouvelable également ?,
Peut-être des chiffres concernant la réduction acoustique (tu as dû faire des testes) et des infos sur les matières premières utilisées (déchets de telle filière...) dans la limite du confidentiel, et pour rendre encore plus forte ta présentation :),
Une présentation produit un peu + technique serait appréciée. Il y fait mention de gaine technique etc. Un plan 3D tournant en vidéo avec zoom sur les high-light technique par exemple confirmerait l'ensemble.,
Le marché régional potentiel,
Ce serait chouette d'en savoir un peu plus sur vous et les motivations du projet,
La structuration de l'entreprise à long terme ,
La production/fabrication - Le design - Brevet ? - Le marché - le choix de distribution - La commercialisation - La cible - Les évolutions ,
Un example concret d'application chez un client ,
ce que comprend précisément la proposition/le projet,
Une suggestion : ajouter sur le site en libre accès une description de principe / visuel du produit. Pas simple de se le représenter sur la base de texte uniquement :-),
Statuts et capitalisation de l'entreprise,
Futurs clients,
On comprend que le produit est encore au stade de développement et prototypage, mais il manque plus de détails sur les cloisons elles-mêmes, sinon ça décourage l'investissement,
L'engagement du porteur du projet
Investments
General

… investments validateds par … investors separate.
The investors are … years old on average.
They are …% of women and …% of men.
Only 87 days remaining!
Investment on average per person: … €
Investment minimal : … €
Investment median : … €
Investment maximal : … €

They have invested
…
/ News /
No news at the moment.